Comparing the genome to computer data storage:

It is estimated [Source] that, there are about 3 000 000 000 base pairs in human DNA. With four nitrogen bases at disposal, let's consider how many chains of this length can be created. It will be four to the power of three billion:
43 000 000 000
This is a large number, isn't it? If we try to use a normal calculator there will be an error message: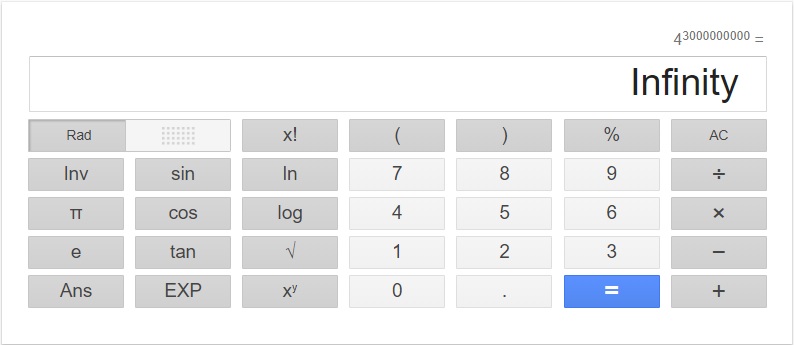 The number is indeed unimaginably great. To calculate it we have to use this formula:
4x=10xlog4
The result is:
101 806 179 973
Now lets consider how many bacteria would be created from one bacterium when it multiplies once per day over 4.5 bilion years120? So on the first day there are 2, the second 4, the third 8 and so on. The formula is known to most schoolchildren: on the n'th day their number should be two to the power of n.
2n
After 1 642 500 000 000 days (4.5 billion times 365) how many bacteria should there be? The answer121 is mind-blowing:10500 000 000 000! And this is only an estimation. In reality, in favourable conditions, bacteria can replicate up to seventy times per day. So in nature, an object such as a specific (deoxy) ribonucleotide chain had 10500 000 000 000 trials to be built. These simple calculations are based on the assumption of absolute randomness, and yet evolution has a booster122 in the form of natural selection, powered by a strong selection function. To realise how quickly this booster is trigerred, let's run other calculations:
The weight of the average bacterium is estimated to be at about 1*10-12 of a gramme, and the mass of the Earth at 6*1027 grammes. Calculations show that only 133 divisions from a single bacterium are sufficient to make one colony of its descendants to exceed the mass of the Earth! Of course, this is not possible, because there are not enough resources on Earth, but imagine that we have a super-nutrient about the size of Lake Baikal. In this case the struggle for resources will start after 100 divisions. The bacteria will then compete against their siblings for what is left. Assuming that they doubled every twenty minutes, the real battle between them, and thus forming a strong selection function, would be in less than two days!
---
120 Replication of the elements within the cell runs a lot faster: DNA replication proceeds at a speed of one thousand nucleotides per second! Therefore, assuming that the rate of replication is, for example, one second, from one single replicator, after two days there would be 1052016 copies. However the fastest cellular organisms, in favorable conditions, reproduce approximately every 20-25 minutes.
121 This cannot be obtained using a normal (nor windows scientific) calculator. The trick is to use this formula: 2x = 10xlog2, where x is the number of days in a year multiplied by the age of the Earth, or 365 * 4.5 billion years.
122 Booster (rocketry), used in space flight to provide or augment the main thrust. I think that defining the characteristics of an evolutionary booster is a good topic for science in general.